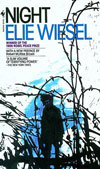 Recently I read a novel called Night. This novel is one of the most moving novels that I have ever read. It is about named Elie Wiesel, a survivor of the holocaust.
He is still living and is a professor now. Something that this book thought me is that we humans are savage. We will do anything to survive. We will eat ourselves, kill each other and strive to live so much to the point of going against our own blood. We are not born evil but other people make us evil. We hate that others are in a higher or better position than us and we will do anything to bring them down to our level.
It is so sad that we always have to fight to survive because people are always being little jerks and they will not let us go up the latter of success they just keep pulling on your legs from under you so you will not get higher.
I just wish that everyone would think not like me because I am a psycho but more like my close friend Jenesis. Then we would all help each other and well there are to many things that people would have to change about their ignorant and jerky ways. One day we are going to make a difference the only thing that is left is to wait…..wait and see.