Dear CNMT Community,
Next week could be one of the most important weeks of the year for CNMT. Two events will help to shape our future, the RHS Small Schools Fair and the March CAHSEE 10th-grade census administration. The first will determine whether we enroll a group of students who really want to be part of our school, and the second will determine whether our students are on track to graduate, as well as a significant portion of our API.
On Saturday, from 10:00 AM to 12:00 PM, Roosevelt High School is hosting our Small Schools Fair for all 8th grade families in our attendance area. It doesn't matter whether you are currently a student at Hollenbeck, Stevenson, Belvedere, KIPP LA Prep, Our Lady of Talpa, or any other middle school. We invite you to see what Roosevelt has to offer and to see how one of our small schools might be the best fit for you and your family.
When 8th graders make their choice next week, my hope is that it will be based on their interest in the school's theme, rather than an idea that one school is academically superior to another and will better prepare them for college. The vision for Roosevelt High School as a complex of small schools is that all small schools will prepare students for college and high-quality careers. Research on school choice does not conclusively support any kind of academic gains from choosing a school rather than being placed.
Most research on school choice is more focused on charters vs. public schools vs. private schools. A recent publication indicates that competition from charters is not having much impact on neighborhood public schools, although my personal experience differs. Regardless, we need to attract the high achievers that the charters and magnets are getting, because these students set the tone for the rest of the school. They are the school leaders. However, I would argue that we shouldn't be trying to attract the high achieving students at the expense of the other small schools at Roosevelt.
On Monday I went with two other principals and a few teachers and counselors from Roosevelt to visit Kearny High School in San Diego. The principal of one of the small schools, DMD, sat down with us for several hours and gave us many insights on why her campus has been successful as a complex of small schools. Her strongest advice was that "all boats float." In other words, no one benefits when some small schools succeed and others do not. This has as much to do with recruitment as it does with the quality of the instructional program, although research on small schools of choice in New York City has been promising.
We need to ensure that our future students' families get the information they need to make a good choice. This is especially true for the immigrant population we serve, who often rely more on personal contacts to inform decisions more than printed literature. But I would argue that any small school at Roosevelt is a good choice, and any student who chooses Roosevelt will be able to receive a high-quality education that will prepare them for college, career and civic engagement.
Next week also brings the CAHSEE census administration. This is when all 10th grade students take the CAHSEE for the first time. This test and this administration are important for two reasons. The first reason is that we want all of our students to graduate and go on to college, and passing the CAHSEE is the first hurdle. The second reason is because the CAHSEE has a huge importance on how our school is evaluated.
The Academic Performance Index is the main indicator used by the state to judge our school. The goal for API is 800, at least. Last year, CNMT had an API of 521. The year before, Roosevelt high school's API was 607. Last year, 65% of the students passed the math and 56% passed the English, but only 44% passed both.
We can do better.
Yes, part of the reason that our passing rate was low was because we had a pretty big number of ESL students taking the test and students with disabilities taking it for the first time, but I know we can do better.
18% of our API is based on our CAHSEE passing rates, and you get 1000 points for every student who passes and zero if they fail. For the federal government's Adequate Yearly Progress, they look at our proficiency rates on the CAHSEE. The passing score on the CAHSEE is 350, and 380 is proficient. We really want all students to shoot for proficient this year. Last year, we had 24.7 proficient in English and 26.6% proficient in math. This year I'd like to see our passing rate rise to at least 60% overall, and our proficiency rate to at least 35% in English and math.
We in CNMT have been doing a lot to prepare students for the CAHSEE. All students who haven't passed a section or who are behind in credits and will be taking CAHSEE for the first time have been enrolled in CAHSEE prep classes since the beginning of the school year. Also, the 10th grade teachers have been giving students practice CAHSEE questions and incorporating CAHSEE standards in their lesson plans. On top of all that, we started a CAHSEE intervention program after school. I really believe that we are going to improve our passing and proficiency rates this year. Let's do it, Riders!
Educator of the Week:
This week I would like to recognize one of our most dedicated, hard-working teachers. Ms. Sofia Bizarro has been at Roosevelt for a number of years. I worked together with her when we are both teachers in the MESH SLC, where she was an SDP teacher. This year, Ms. Bizarro has changed roles, and is now an RSP teacher.
She has always impressed me with her dedication to her students and passion for what she does. Ms. Bizarro truly embodies going above and beyond. Last year, when we had a group of 10th graders who were demoted to 9th-grade status because of their low credits, Ms. Bizarro volunteered to take on the homeroom for these students, even though most special ed teachers didn't have a homeroom. She spends countless hours working with the students to push them to improve their grades and make up classes, staying after school almost every day until 4:30 PM or later tutoring.
This year, Ms. Bizarro has taking on her new role as RSP teacher and department chair for the special ed department, which has been a challenge, because this year we have expanded the number of students that we are including in general ed classes. Ms. Bizarro is above all an advocate for her students; our students. She is tough with her kids and keeps them accountable, but she also speaks up for them when they don't always speak up for themselves.
Ms. Bizarro has also been an active member of the CNMT Testing Committee. She has been planning a motivational assembly for the CAHSEE, and also made an amazing trailer for a longer video that will be shown at the assembly.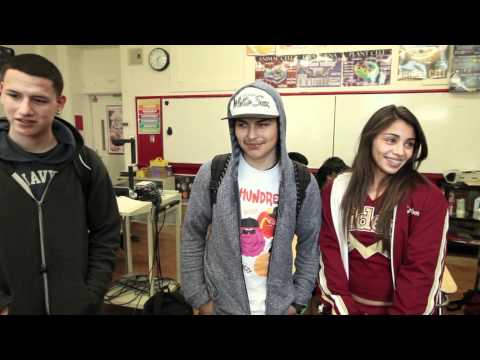 Check it out!
Upcoming Events
Monday, March 5
Boys Tennis @ Franklin HS 2:30pm
Boys Volleyball @ Franklin 2:30pm
3:00 PM to 5:15 PM A St@r Tutoring – Cafe
3:15 PM to 5:30 PM TELACU – Upboard Program – B8
3:15 PM to 4:45 PM Students Run LA Training
3:15 PM to 5:00 PM CAHSEE 380 Classes
3:30 PM to 5:00 PM SDMC meeting – Penthouse
Tuesday, March 6
Margie out
8:00 AM to 9:00 AM Mandatory Supervision Meeting – Student cafeteria
1:30 PM to 3:00 PM Banked day department meetings
3:30 PM to 5:00 PM Schoolwide Positive Behavior Support Team – Penthouse
Wednesday, March 7
Swim Team vs. Bravo 2:30pm
JV Softball @ Washington 2:30pm
V Softball @ Washington HS 2:30pm
1:10 PM to 1:40 PM Flex Reps – R222
2:00 PM to 2:30 PM CNMT Office Staff Meeting
3:15 PM to 5:00 PM TEEN COURT – Pent House
3:15 PM to 5:00 PM CAHSEE 380 Class
3:15 PM to 5:00 PM CNMT SSC Meeting – R212
6:00 PM to 7:00 PM Cheer meeting – Student Cafeteria
Thursday, March 8
Verifications Due @ 7:20am ISIS Office
CNMT CAHSEE Assembly – Aud. Flex
Gear Up Student Assembly 10:30-12pm Aud
8:00 AM to 4:00 PM Gertner at Leadership Conference – PLAS offices
3:15 PM to 5:00 PM CAHSEE 380 Class
5:30 PM to 7:30 PM CNMT Parent Workshops – Cafe
Friday, March 9
Track @ Garfield 2:30pm
1:10 PM to 1:45 PM CNMT CAHSEE Assembly – Aud
Saturday, March 10
10:00 AM to 12:00 PM Small schools fair - Roosevelt High School
Sunday, March 11
Daylight Savings Time 1hr. Forward
Monday, March 12
Theatre Performance – Aud – East West Players P1-P4
JV Softball vs. Garfield 2:30pm
Boys Volleyball @ Garfield HS 2:30pm
Swim Team vs. Garfield 2:30pm
V Softball @ Garfield 2:30pm
3:15 PM to 5:00 PM CAHSEE 380 Classes
Tuesday, March 13 – REGULAR SCHOOL DAY
CAHSEE TESTING – English
3:15 PM to 4:15 PM CNMT Faculty Meeting
Wednesday, March 14
CAHSEE TESTING – Math
2:00 PM to 2:30 PM CNMT Office Staff Meeting
Thursday, March 15
5:30 PM to 7:30 PM OPEN HOUSE
5:30 PM to 7:30 PM GEMAS workshop